IT Made Easy.
We provide real time IT support across devices, apps and networks, whether you're on-site or remote.
Guaranteed to reduce your IT expenses.
Get In Touch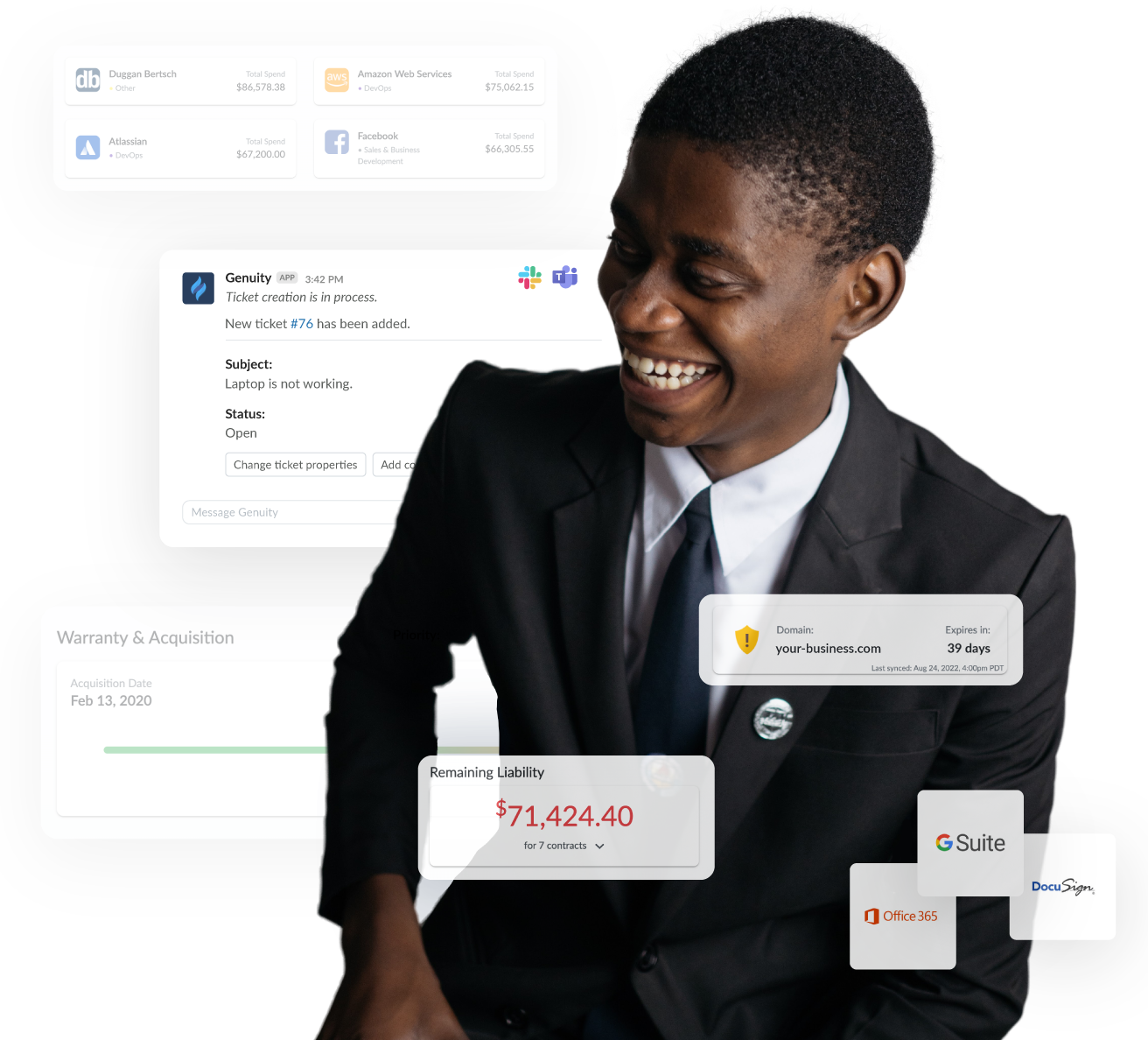 Genuity Powers IT
---
500+
Companies Across
Compliant Industries
300K+
Managed Assets
Growing Daily
80K+
End Users
and Counting
---
Why Genuity is a cut above other IT providers:
Flat-rate, transparent pricing
On-site & remote support
Over 50% reduction in IT costs (over other IT solutions)
Real-time support with messaging (Slack & Teams)
Guaranteed response time with SLA
A singular software platform to see all of your IT
As our customers say, it's a no brainer.
Bolster your capital efficiency and wrangle the ever expanding "tech sprawl" that continues to add cost and complexity.
Free Yourself from the IT Burden.
A solution for every situation. Just as every business looks different, so does its IT needs. Our IT management solution will fit every situation, from office manager turned de facto IT person to in-house IT teams.
Move IT management from a nightmare to a dream.
Has "IT" been added to your job description?
If IT isn't your passion, it's difficult and frustrating when IT issues take you away from your primary responsibilities. At Genuity, some of our greatest advocates are business leaders and employees who knew this frustration before finding someone else to take care of their IT department.
That's what we're here for. The Genuity team takes care of every aspect of your IT environment, from day-to-day problems to cybersecurity, so you can focus on what's actually important: getting stuff done!
Short on bandwidth? IT headaches?
Do you have the IT infrastructure support you need to perform your job effectively and manage all of your team's IT needs, such as network management and employee on- and off-boarding?
Genuity fills the gaps, allowing you to focus on important IT initiatives.
Free Network Assessments
Get your free network assessment, now!
Never stress about integrations again. Genuity works with just about everything.
---